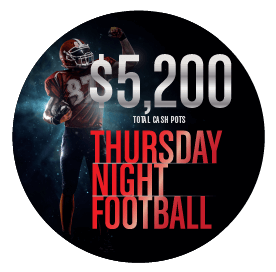 $5K Thursday Night Football
Have a chance to win some cash when you play Cash Pots during our Thursday Pro Football Games!

Starting October 4th - 25th you can win BIG!

$150 at the start of each quarter and end of the game
$100 each touchdown
$200 kickoff returned for a touchdown
$300 for any safety
$100 interception return
PLUS... Enjoy $2 Beer Special and $1.50 Hot Dogs and Nachos



GEGA-000021. Estimated payout during promotional period $10,000. Problem Gambling? 1-800 Gambler. Must be 21. Golden West Casino has the right to change, modify, or cancel at any time.